Dual Plenum Airflow Dryer / Cooler
Controlled, Balanced airflow for Uniform Product Drying
Process Control Options
Unique dryer control systems are designed for greater process efficiency. Maverick offers Automated Process Control systems linking the dryer to up and down stream components. The systems incorporate formula storage, process data logging and trending, product tracking, and alarm handling. Manual push button control panels are also available.
Process Air Flexibility
Airflow direction through product bed can be changed for optimum processing control. This critical feature allows production personnel to re-configure the dryer for optimum airflow. High process airflow velocity through product bed increases drying energy efficiency while maximizing final product moisture uniformity.Temperature profiling is optionally available in the TrueTemp configuration. This means each conveyor has separate temperature zones so the temperature can be matched to the product drying curve.
Spreader
Uniform drying is dependent on uniform bed loading. Sloped oscillating spout spreader is most common and is suitable for most applications. The direct drive product spreader is designed to spread the incoming product stream evenly across the width of the conveyor bed. Adjusting the spreader to attain a level bed of product is essential for final product quality.
Heat Source Options
Direct heat is available utilizing natural gas, propane or butane as the energy source. Dryers are delivered with complete pre-plumbed, pre-wired gas train. Dryers are equipped with all required safety interlocks meeting FM requirements.Indirect steam heat source is also available featuring heavy duty stainless steel coils which are protected with externally replaceable wire mesh screens. Steam heat system includes manifold, valves, traps and all necessary plumbing components.
Product Conveyor
Hinged or overlapping design with heavy duty tray is available in galvanized carbon steel construction. The purpose of the conveyor support is to add strength to the conveyor as it travels through the Dryer under the load of product it is conveying. During operation, the conveyor components will see added stresses due to the dynamics of the conveyor moving through the Dryer.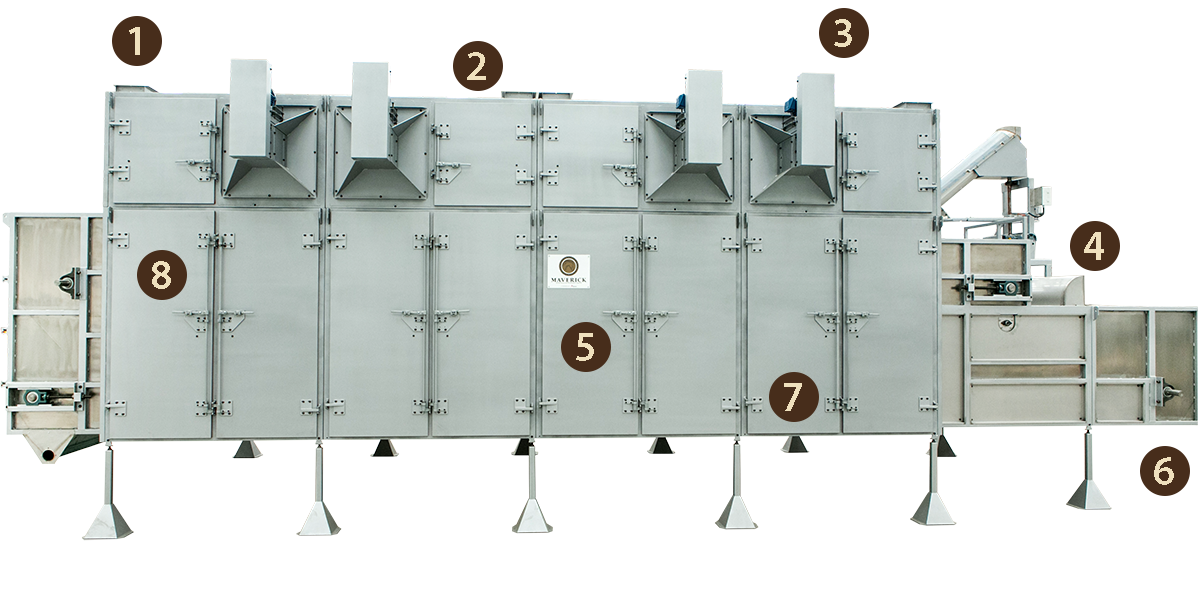 1
All gas plumbing and electrical devices are mounted outside of dryer for safe and easy maintenance.
2
Roof, floor and all four sides are provided with75mm high temperature insulation.
3
Fans are plug style that permit unit to be removed as complete assembly.
4
Independent conveyor drives are driven with speed controlled by AC VFD's for maximum process flexibility.
5
Solid construction hinged interior doors permit easy access to product conveyors.Doors are reversible and may be rearranged for maximum process flexibility.
6
All bearings are mounted externally for improved sanitation and maintenance ease.
7
Dryer is completely assembled and tested in our factory before shipping. Dryer is designed for minimum disassembly reducing final installation time in client's factory.
8
Fully insulated hinged access doors provide complete access to heat chambers for maintenance.
Balanced Airflow for Uniformdrying
Heated airflow from both sides of dryer
Minimizes uneven drying across bed
Eliminates need for air diverters
Heated airflow up or down through product
Reduce uneven drying through bed
Process Flexibility for Future Operations
Airflow direction quickly changed
Accommodates product changes
Adapts to process modifications
Maintenance and Sanitation
Provides improved access to dryer interior
Fans and heaterslocated outside of dryer
Born from industry-leading knowledge, tailored specifically to your opportunities.